We have over 500 get to know you questions.
Top Questions- Reload Random Questions
Here are some Random Questions:
What is the largest crowd you have ever been in?

What makes a good teacher?

What word do you have trouble saying?

How do you prefer to get bad news?

What junk food is your weakness?

Where did you grow up?

What is something you have always wanted to ask wanted to ask your father but never have?

What do you "know now" that you wish you "knew then"?

When was the last time you climbed a tree?

Who would you run into a burning building to save?

What in life do you "just know"?

If you were a criminal master mind, what would be your criminal racket?

When was the last time you were in a place that was too quiet?

Did you ever get left behind as a child?

When was the last time you faked being sick?

How has your "green" behavior changed over the last 10 years?

What is the best home field advantage in sports?

If you had one wish, what would it be?

Would you rather have one year off at your current rate of pay or work your current job for a year at double your current rate of pay.

When was a magical moment in your life?

What is your favorite way to kill time?

What single piece of technology makes your life easier?

What children's TV Show is the hardest to watch?

What would be the very first thing you would do if you won the lottery?

.
Get to Know You Questions can make a fun party game or icebreaker. In may situations the questions are sufficient. But if you are playing the role of host/hostest you may want something a little more formal. See the Games page for ideas.

Happy mingling

Fun get to know you questions for all ages home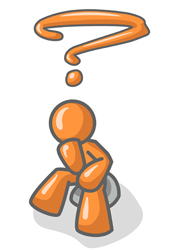 All Questions . . . <<Previous Page -Top Questions- Random Questions -Next Page>>
Page Number -1- -2- -3- -4- -5- -6- -7- -8- -9- -10-
-11- -12- -13- -14- -15- -16- -17- -18- -19- -20-
Check It Out: Humor : 99 Humorous, amusing and thought provoking questions and ponderables.