We have over 500 get to know you questions.
Top Questions- Reload Random Questions
Here are some Random Questions:
If you where offered the job of President would you take it? Why?

In what ways has your world view evolved?

When is it good to be Lazy?

What TV show do you wish was still on the air?

What was the worst punishment your parents ever enacted?

What is your favorite way to spend a Saturday?

When was the last time you laughed so hard you cried?

What is your earliest memory?

Do you know any other languages? Which ones?

What personality quirk will you indulge when you are old?

What is the best adaptation of a book to a movie?

What would you sacrifice to be able to go into space?

Where is the scarcest place you have ever traveled to?

If you where in a Rock N' Roll band, what would your job be?

What was the last book you read?

Is there any job you would want to work for 50 years?

What friend could you turn to in a time of need?

What was the first thing you ever won?

What can you do today to create the good life for yourself?

When have you seen history made either in person or on TV?

If you had a time machine and you could go back and change anything, what would it be?

Who would you be willing to donate a kidney to?

Do you still like to play with your food?

On a scale of 1-10 how honest are you?

.
Get to Know You Questions can make a fun party game or icebreaker. In may situations the questions are sufficient. But if you are playing the role of host/hostest you may want something a little more formal. See the Games page for ideas.

Happy mingling

Fun get to know you questions for all ages home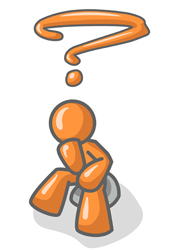 All Questions . . . <<Previous Page -Top Questions- Random Questions -Next Page>>
Page Number -1- -2- -3- -4- -5- -6- -7- -8- -9- -10-
-11- -12- -13- -14- -15- -16- -17- -18- -19- -20-
Check It Out: Humor : 99 Humorous, amusing and thought provoking questions and ponderables.