Random questions from the 1000 plus get to know you questions in our library.

Here are 25 Random Get to Know You Questions and Conversation Starters:
Who taught you to swim?

What is the saddest movie?

What goals do you have for your work?

In what ways are you a philosopher?

If the money was the same what job at your current company/employer would you want?

If you could ask God a question what would it be?

What charity do you support?

What does home smell like?

What was the last thing you complained about?

Is it ever right to do the wrong thing? Is it ever wrong to do the right thing?

Would you rather have $50,000 free and clear or $150,000 that is illegal?

If you had the money what charity would you want to start?

What singer song-write do you like listening to?

When has life beaten you down?

When in your life did you say "no" even though you really wanted to say "yes"?

What was the last charity you donated time, money or materials to?

What do you remember about your first day of school?

What movie scares you?

What celebrity irritates you the most?

Would you use pirated software?

What is your definition of wealthy?

Do you prefer sunrises or sunsets? Why?

What gives you hope for humanity?

When have you had a small decision bring big consequences?



A new get to know you question every day. Join the conversation on facebook.
Fun get to know you questions for all ages home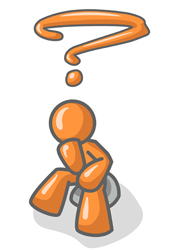 All Questions . . . <<Previous Page -Top Questions- Random Questions -Next Page>>
Page Number -1- -2- -3- -4- -5- -6- -7- -8- -9- -10-
-11- -12- -13- -14- -15- -16- -17- -18- -19- -20-
-21- -22- -23- -24- -25- -26- -27- -28- -29- -30-
Check It Out: Humor : 99 Humorous, amusing and thought provoking questions and ponderables.
The only man who never makes a mistake is the man who never does anything. - Theodore Roosevelt