Random questions from the 1000 plus get to know you questions in our library.

Here are 25 Random Get to Know You Questions and Conversation Starters:
Have you ever been in a car accident?

When was the last time you went camping?

What is the most important room in the house?

Are you a good kisser?

What is the key to finding happiness?

What College sports team is your favorite?

What is your least favorite Holiday?

Do you still like to play with your food?

How far would you drive to save $20?

Do you have any good luck rituals? What are they?

How important is it to you that others are on time?

How much privacy would you like?

What was the last thing you donated to a thrift store?

If you could add a 32nd flavor of ice cream what would it be?

Do you believe it is possible for a man and woman to be "just friends"? Why?

What is the most beautiful language?

What is the best adaptation of a book to a movie?

When is it acceptable to lose your temper?

What colors do you like to dress in?

What three adjectives best describe you?

What is your drink of choice?

If you had it to do over again what would you study in school?

What did you do to get pocket money as a child?

When was the first time someone close to you died?



A new get to know you question every day. Join the conversation on facebook.
Fun get to know you questions for all ages home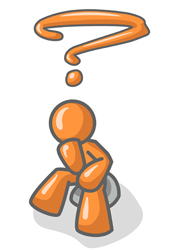 All Questions . . . <<Previous Page -Top Questions- Random Questions -Next Page>>
Page Number -1- -2- -3- -4- -5- -6- -7- -8- -9- -10-
-11- -12- -13- -14- -15- -16- -17- -18- -19- -20-
-21- -22- -23- -24- -25- -26- -27- -28- -29- -30-
Check It Out: Humor : 99 Humorous, amusing and thought provoking questions and ponderables.
Every man dies. Not every man really lives. - William Wallace