Random questions from the 1000 plus get to know you questions in our library.

Here are 25 Random Get to Know You Questions and Conversation Starters:
What is the most valuable life lesson you learned from your parents?

What is the stupidest thing for a couple to fight about?

Do you believe in God?

What is the worst meal you have ever prepaired?

If you had an extra hour every day what would you do with it?

When was the last time you finished something really big?

What was the best wedding you have ever been to?

What was the last book you read?

What in your life have you left up to chance?

What is your favorite childhood picture of yourself?

What is the unhealthiest thing you have eaten?

What winter sport have you never done but would like to try?

What is your idea of heaven?

What are the perks of your job?

What is more important than a good night's sleep

Why do they still make black jellybeans?

What was your favorite TV show growing up?

What is the furthest south you have traveled?

What pet frightens you?

When has life beaten you down?

What part of your morning routine do you consider essential?

What was the last lie that somebody told you?

If you life had a sound track what song would you pick for it?

When in your life did you say "no" even though you really wanted to say "yes"?



A new get to know you question every day. Join the conversation on facebook.
Fun get to know you questions for all ages home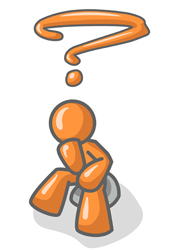 All Questions . . . <<Previous Page -Top Questions- Random Questions -Next Page>>
Page Number -1- -2- -3- -4- -5- -6- -7- -8- -9- -10-
-11- -12- -13- -14- -15- -16- -17- -18- -19- -20-
-21- -22- -23- -24- -25- -26- -27- -28- -29- -30-
Check It Out: Humor : 99 Humorous, amusing and thought provoking questions and ponderables.
Not believing in force is the same as not believing in gravity. -Leon Trotsky