Random questions from the 1000 plus get to know you questions in our library.

Here are 25 Random Get to Know You Questions and Conversation Starters:
How do you think the world will end?

Who's what the last funeral you went to?

What did you do during your childhood summers?

What bugs you most about air travel?

Is there any job you would want to work for 50 years?

What topic of conversation do you consider boring?

What musical interments do you wish you could play?

Have you ever won a trophy?

What was the biggest perk of any job you had?

What is the next home improvement project you would like to take on?

What do you have an irrational fear of?

Who was the first person who had a crush on you?

What is something you have always wanted to ask wanted to ask your father but never have?

What is the story behind one of your scars?

When was the last time you left a bad situation?

Not counting your religion, which religions do you find interesting? Why?

What would you want your last words to be?

If you had an extra room in your house what would you use it for?

What does it mean to you to "walk the line"?

Who was the first person who you cared more about their well being than your own?

What is your favorite shirt?

Who do you work with that you really respect?

Do you like short or long hair on someone of the opposite sex?

What was the last thing that you lost and later found?



A new get to know you question every day. Join the conversation on facebook.
Fun get to know you questions for all ages home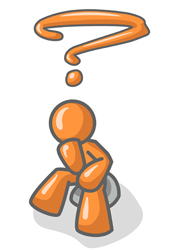 All Questions . . . <<Previous Page -Top Questions- Random Questions -Next Page>>
Page Number -1- -2- -3- -4- -5- -6- -7- -8- -9- -10-
-11- -12- -13- -14- -15- -16- -17- -18- -19- -20-
-21- -22- -23- -24- -25- -26- -27- -28- -29- -30-
Check It Out: Humor : 99 Humorous, amusing and thought provoking questions and ponderables.
You do not reason with intellectuals. You shoot them. - Napolean Bonaparte