Random questions from the 1000 plus get to know you questions in our library.

Here are 25 Random Get to Know You Questions and Conversation Starters:
What things are you shallow about?

What movie can you quote word for word?

What girls name do you like?

What is your favorite dessert?

Do you think you lose your temper too often?

When was the last time you really laughed?

When did you come close to death?

Have you ever been in a food fight?

If you were a criminal master mind, what would be your criminal racket?

Did you ever work at an on campus job? What was it?

When was the last time you cried?

What major company would you like to work for?

What is the worst air travel experience you have ever had?

Who is the black sheep of your family?

What is the best cookie you have ever eaten?

Where were you in life 5 years ago?

What is your favorite thing about your dad?

What does home smell like?

When you have out of town guests what do you show them?

What was the most memorable class you have ever taken?

What is your favorite curse word?

What gives you hope for humanity?

What bill do you most dislike paying?

What song makes is the best song for a road trip?



A new get to know you question every day. Join the conversation on facebook.
Fun get to know you questions for all ages home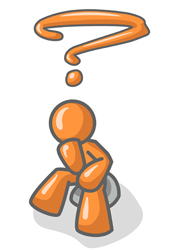 All Questions . . . <<Previous Page -Top Questions- Random Questions -Next Page>>
Page Number -1- -2- -3- -4- -5- -6- -7- -8- -9- -10-
-11- -12- -13- -14- -15- -16- -17- -18- -19- -20-
-21- -22- -23- -24- -25- -26- -27- -28- -29- -30-
Check It Out: Humor : 99 Humorous, amusing and thought provoking questions and ponderables.
I have never known such a thing as a bad hair day. - Albert Einstein