Random questions from the 1000 plus get to know you questions in our library.

Here are 25 Random Get to Know You Questions and Conversation Starters:
What would you consider the most influential book of all time?

If you had an extra room in your house what would you use it for?

When was the last anti-climatic moment you have experience.

What have you learned about talking to men vs talking to women?

What is the prettiest place you have been?

What do you think are the characteristics that make a good pet?

What is the unhealthiest thing you have eaten?

When getting your picture taken, does your smile show your teeth?

Is there any job you would want to work for 50 years?

Where do you think the best place to invest money is?

Would you volunteer to be one of the first colonists on Mars if it meant you could never return to earth?

What is the biggest snowstorm you can remember?

When you your last kiss?

What bugs you most about air travel?

What song do you have memorized?

When was the last time you ate way too much?

What is your best personality trait?

If you had your own TV network what would you put on it?

When you are stressed out what do you do to relax?

What goals do you have for your children?

In what way are your parents out of date?

What high brow cultural activity do you like to participate in?

What job have you been procrastinating?

What is the farthest you have ever walked?



A new get to know you question every day. Join the conversation on facebook.
Fun get to know you questions for all ages home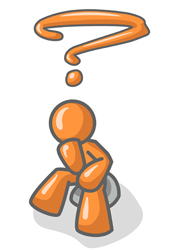 All Questions . . . <<Previous Page -Top Questions- Random Questions -Next Page>>
Page Number -1- -2- -3- -4- -5- -6- -7- -8- -9- -10-
-11- -12- -13- -14- -15- -16- -17- -18- -19- -20-
-21- -22- -23- -24- -25- -26- -27- -28- -29- -30-
Check It Out: Humor : 99 Humorous, amusing and thought provoking questions and ponderables.
The thought of being president frightens me. I do not think I want the job. - Ronald Regan