Random questions from the 1000 plus get to know you questions in our library.

Here are 25 Random Get to Know You Questions and Conversation Starters:
What story from sports inspires you?

What nickname do you have?

When did you display courage?

What is there about money that you do not understand but would like to?

What is your favorite song from a Broadway musical?

What is the best costume you have worn?

What is your favorite curse word?

When was the last time you felt powerless?

If you where in a Rock N' Roll band, what would your job be?

Have you ever been in a car accident?

What does it mean to you to "walk the line"?

What is the best food on a hot summer day?

If you could be a professional athlete what sport would you play?

If you had an extra day every week what would you do with it?

Metaphorically speaking, what is the most important tool in your tool box?

If you had to act your age what behavior would you change?

What phrase or idiom do you think is makes no sense?

When in your life have you had a "now or never" moment?

Who do you work with that you really respect?

Which one of your character flaws would you like to improve?

What do you do for exercise?

Are you annoyed when other people do not "follow the rules" even if it does not effect you?

What small business would you like to start?

If you had a 60 second Super Bowl advertisement what would you want to show a billion people?



A new get to know you question every day. Join the conversation on facebook.
Fun get to know you questions for all ages home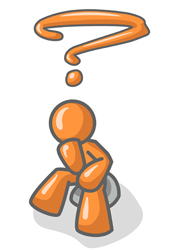 All Questions . . . <<Previous Page -Top Questions- Random Questions -Next Page>>
Page Number -1- -2- -3- -4- -5- -6- -7- -8- -9- -10-
-11- -12- -13- -14- -15- -16- -17- -18- -19- -20-
-21- -22- -23- -24- -25- -26- -27- -28- -29- -30-
Check It Out: Humor : 99 Humorous, amusing and thought provoking questions and ponderables.
All happy families resemble each other, each unhappy family is unhappy in its own way. - Leo Tolstoy