Random questions from the 1000 plus get to know you questions in our library.

Here are 25 Random Get to Know You Questions and Conversation Starters:
If you owned a luxury yacht, what would you name it?

In what ways are you a philosopher?

What is the farthest away from a Starbucks you have ever been?

What goes through your mind when your boss asks to talk to you privately?

Who is the greatest singer who is no longer living?

What is the best home field advantage in sports?

What company do you think has a bad name?

If you were going to go into business for yourself what would you do?

What is the best costume you have worn?

Does your heart rule your mind or your mind rule your heart?

What is the strangest food you have ever eaten?

Who attempts to impress you?

Who was your first love?

What was your first car?

When have you had too much of a good thing?

What is love?

Is there a food you hope you never eat again?

What girls name do you dislike?

How would you describe your investing strategy?

What is your favorite season?

What was the fanciest wedding you have ever been to?

Would you double you commute if it meant you could double the square footage of your home?

If you needed someone to act as a character reference for you who would you chose?

When was the last time you had to vouch for a friend?



A new get to know you question every day. Join the conversation on facebook.
Fun get to know you questions for all ages home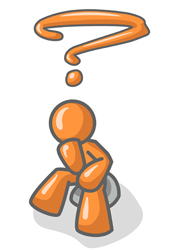 All Questions . . . <<Previous Page -Top Questions- Random Questions -Next Page>>
Page Number -1- -2- -3- -4- -5- -6- -7- -8- -9- -10-
-11- -12- -13- -14- -15- -16- -17- -18- -19- -20-
-21- -22- -23- -24- -25- -26- -27- -28- -29- -30-
Check It Out: Humor : 99 Humorous, amusing and thought provoking questions and ponderables.
The greatness of our country has been based on our thinking that everyone has a right even to be wrong. - Ronald Regan