Random questions from the 1000 plus get to know you questions in our library.

Here are 25 Random Get to Know You Questions and Conversation Starters:
When you have out of town guests what do you show them?

Do you believe a long distance relationship can work?

What TV Show fires your imagination?

Who was the last person you had to forgive?

What was the last law you broke?

If you where crowned king of the whole world, what would your first royal decree be?

What do you never what to hear you mother say?

When was the last anti-climatic moment you have experience.

What do you remember about your Grandfather?

What is the strangest food you have ever eaten?

What vivid memory do you have skipping school?

What is the worst trip you have ever been on?

What technology bugs you when other people refuse to adopt it?

What candy reminds you most of your youth?

What major company would you like to work for?

What goals do you have for your education?

Where were you in life 5 years ago?

What is your favorite childhood picture of yourself?

Who is the most dependable person in your life?

What was the most interesting biography that you have read?

What do you do when you have to deliver bad news?

What makes you lose hope for humanity?

Who taught you to cook?

What was the last thing that you lost and later found?



A new get to know you question every day. Join the conversation on facebook.
Fun get to know you questions for all ages home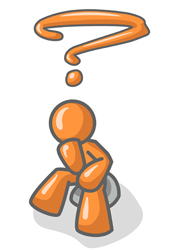 All Questions . . . <<Previous Page -Top Questions- Random Questions -Next Page>>
Page Number -1- -2- -3- -4- -5- -6- -7- -8- -9- -10-
-11- -12- -13- -14- -15- -16- -17- -18- -19- -20-
-21- -22- -23- -24- -25- -26- -27- -28- -29- -30-
Check It Out: Humor : 99 Humorous, amusing and thought provoking questions and ponderables.
Success is how high you bounce when you hit bottom. - George Patton