Relationships Get To Know You Questions
Relationships (Romance & Friendship)

For many of us the most important thing is how we relate to others. This may be our oldest friendships to our newest spat. Of course questions of love and romance will fall in to this group. Love is infact the most powerful motivator in most people life.
How do you feel about touchy feely people?

What is the closest you have come to getting caught cheating?

How long was your longest relationship?

Do you like short or long hair on someone of the opposite sex?

What was the best complement you have ever received?

What is the biggest indication that someone is a nerd?

What is the biggest change you have made in your life in the last year?

When have you believed in love at first sight?

Do you say meaner things to your friends or your enemies?

Who would you consider your enemy or rival?

What can a friend do that will make you feel special?

What can you do to make sure you regret nothing from today?


Seek first to understand and then to be understood. The surest path to an argument is to have two people both bent on making the other one understand. In any of the relationships in life it is essential that you can put yourself in a mindset that you can see things from the other person's point of view. As you have that vantage point you are also in the best position to make yourself understood.
Fun get to know you questions for all ages home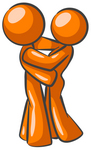 All Questions . . . <<Previous Page - Random Questons - Next Page > >
See Questions on Society or Philosophy
Check It Out: You have read the questions now read the answers. 200 Plus random answers from GetToKnowU
Pick battles big enough to matter, small enough to win. - Jonathan Kozol