Random questions from more than 500 Life Lessons questions.
Top Questions- Reload Random Questions
The Life Lessons Questions are a different set of questions than the Get To Know You questions. There is some significant overlap between the questions. Some of these questiosn will be less meaningful taken out of context. Here are some random questions taken from the Life Lessons set.
Here are 20 Random Life Lesson Questions :
Would you rather have an extra finger or lose a finger?

Can I trust you?

When was the last time a nightmare made you get in bed with your parents?

If you where in a Rock N' Roll band, what would your job be?

Would you rather lose your sense of time or developed a paralyzing fear of heights?

If you get cheated by the Better Business Bureau, who do you complain to?

When was the last time you did volunteer work?

What is the repayment plan and time period?

Where do you want to live near term ?

When in your life have you "gamed the system"?

What "personal space" will be afforded to each of you?

Would you rather have low self-esteem or high blood pressure?

Would you rather speak in public for 30 minutes be with out your car for two days.

What in your life have you left up to chance?

When was the first time you stayed up all night and watched the sunrise?

How often does the bathroom need to be cleaned?

What did you do to get pocket money as a child?

Would you rather get caught checking out a stranger or caught lying to a friend?

What was the best vacation you went on?

What was the first professional sporting event you went to?


Fun get to know you questions for all ages home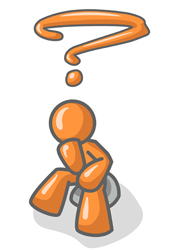 <<Previous Page -Top Questions- Random Questions- -Reload This Page




Check It Out: Humor : 99 Humorous, amusing and thought provoking questions and ponderables.

It is important to have friends who will back you up no matter what the circumstances. - Archduke Franz Ferdinand