Random questions from the 1000 plus get to know you questions in our library.

Here are 25 Random Get to Know You Questions and Conversation Starters:
What song motivates you when you are exercising?

What colors do you like to dress in?

When have you been unable to say "I love you too"?

What College/University did you want to attend but did not?

What is the worst meal you have ever prepaired?

Is popular music getting better or worse with time?

How long can you hold a grudge?

What did you have for Sunday dinner growing up?

When have you seen history made either in person or on TV?

What is a good thing happening in your life right now? What makes it good?

Do you feel you have a purpose or calling in life?

What is the furthest south you have traveled?

What is love?

where were you durring a life changing moment?

What is the most valuable thing in your life?

Which one of your responsibilities do you wish you could get rid of?

When have you embarrassed yourself in public?

What nickname do you have?

Would you rather have many casual friends or one very close one?

How do you think the world will end?

What secrets do you have for getting better service?

Who taught you to ride a bike?

What was the last thing you donated to a thrift store?

What is the most played song in your music library?



A new get to know you question every day. Join the conversation on facebook.
Fun get to know you questions for all ages home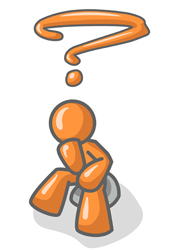 All Questions . . . <<Previous Page -Top Questions- Random Questions -Next Page>>
Page Number -1- -2- -3- -4- -5- -6- -7- -8- -9- -10-
-11- -12- -13- -14- -15- -16- -17- -18- -19- -20-
-21- -22- -23- -24- -25- -26- -27- -28- -29- -30-
Check It Out: Humor : 99 Humorous, amusing and thought provoking questions and ponderables.
Before you criticize someone, you should walk a mile in their shoes. That way, when you criticize them, you're a mile away and you have their shoes. - Jack Handey